Business Doctor Fife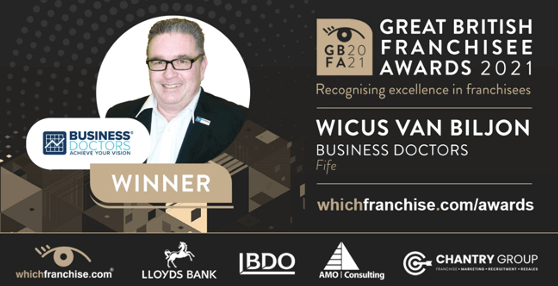 Since joining our team back in 2018, Wicus Van Biljon has taken to becoming a Business Doctor like a duck to water. Wicus's "go the extra mile" attitude and natural flare for business mentoring has made him a highly successful and recommended coach by the many businesses he's supported over the last three years.
Before Business Doctors
Wicus has gained a vast depth of knowledge and experience over the last 30 years.
Originally trained as an accountant, Wicus soon realised that this practice was not his passion as he enjoyed the commercial business aspect more. Wicus' role at Messer Fedgas Ltd in SA took him across the globe, looking at failed investments and helping those businesses turn it around or sell up. The group then used his turnaround skills to help them grow and scale a local subsidiary Weld-cut Equipment as part of the Air Liquide group of companies.
However, the turning point for Wicus was when his daughter thought he worked at an airport because he was away so much. During his handover of responsibilities, he stumbled upon an opportunity and with his brother, they created St Pauls Underwriting Managers a company within the Financial Services industry that they exited in 2017, the same year Wicus immigrated from South Africa to Scotland. During his tenure at his own company he was also seconded to Saxum Insurance company to implement a turnaround strategy for a year to return the company to profitability before handing it back to the shareholders and Management team.
What made you decide to invest in a franchise?
Wicus invested in a Business Doctor franchise back in 2018. "I wanted to build something for myself, work for myself, use the skills I've gained over the last 30 years and put them into play". Having dealt with franchises in the past, he found that it provided a good opportunity with a strong support structure behind it – "The business model of Business Doctors is fantastic because it's your own business, you make it work, as long as your always in the brand guidelines and as it is your own business you have to make it work for you".
What qualities make you an effective Business Doctor?
Wicus believes that listening to understand and not listening to reply is a hugely important quality that has made him a successful Business Doctor. "When you listen to reply, you want to give them a solution or another question. When you listen to understand, you hear what clients are saying as you've given him the freedom to express what they are saying! When you talk to people, most people are ready to fire off a response and aren't taking the time to listen." Instead, Wicus responds by repeating it back to them to confirm that what he's hearing is what they've wanted to express. "It's an effective communication skill. Active listening and effective communication makes me a good Business Doctor – If I speak for 15 minutes, I'm doing my job, but if I speak for 205 minutes I am not doing my job. It's not about me, it's about them".
How do you encourage potential clients to sign up?
Instead of providing one free health check, Wicus provides three. When meeting with potential clients, he encourages them to consider where their business will be down the line. "If in a few years when we meet for coffee, are we still going to be in the same position with the same issues or will you have done something different by then? If you do the same thing, you're going to keep getting the same results. So, are you prepared for change?" If they're not at that stage yet, Wicus takes it upon himself to reach out and help them with applications for grants for example. "They remember what I did for them, then they come back to me automatically. They come back as they know that they need that critical pair of eyes".
How many SMEs are you currently supporting?
By June, Wicus will have a total of 20 clients. "I sell a strategy year, not day. All my clients are engaged for a year, with many going onto value builder now. Clients usually continue engaging with me for around three years." When asked about having so many clients to support, he exclaims that he thrives on it. "I can plan them – with zoom it's easy because I can slot them in and have a half an hour catch up each week if they choose to. Then I'll see them twice a month for two and a half to three hours."
How do you keep your clients focused on the process and the long-term benefits?
When it comes to keeping SME's looking forward, Wicus always turns their focus back to the long-term plan. "When Business Doctors deliver a program, the beginning always refers back to the plan: Where are we? What are we doing long term? Why are we doing long term? This sets the tone for our meeting. We spend the first half an hour establishing where we are in terms of the strategic review and why it's important. Then the rest of the day is focused on making sure the actions we're doing are driving strategic vision! The following catch up focus' on the day-to-day actions we've had to complete: Have we done it? Have we done what we need to achieve?"
Wicus firmly outlines that the strategy day is the most integral part of the process – "The strategy day is the most important because you get a really good grip on what your client's business is all about and what they're aiming to achieve."
Have you found anything particularly challenging?
In terms of challenges faced, Wicus refers back to the beginning of his Business Doctor venture. "Finding new clients is always challenging because you think you need to solve their problems and if you don't, you haven't done what you should've been doing. You don't need to solve their problems because if you do, your taking ownership and responsibility of someone else's problems . I came in with no track record nor networks which made it a lot more difficult as guys over here didn't know what I could deliver or who I was. In South Africa, I didn't need to network as people immediately knew what I did. I needed to work hard to create a new network in this area to improve my visibility as well as credibility."
What do you enjoy most about being a Business Doctor?
Wicus gains the majority of his enjoyment from working with the many different businesses he's supported over the last 3 years – "I enjoy talking to them. I get to see such a variety of businesses, each one with their own different issues and problems. I learn just as much from these clients as they learn from me".
Is there a client that stands out in mind?
"My very first client stands out for me. I did the strategic review for free and the client then agreed an annual fee payable monthly to help him implement the strategy. We took a business turning over from £450,000 to £ 1.8 million in two years, which was a huge success story. A few of my clients have doubled their revenue over last two years which is really good to see. I also helped to take my third and fourth client from £100,000 to £300.000 in the space of a year."
What did your first client specialise in?
"They're an all-trades business but it started with painting and decorating we then expanded the offering and are now able to project manage even the most complex projects . Even in lockdown we've managed to stay successful as part of the strategy focusses around risks and our risk mitigation plans helped to keep the businesses afloat. We've actually grown through lockdown, from volume of clients to the new services we offer. Our order book is filled up for 4 months in advance and part of our success story is placing the clients at the heart of what we. We are a community-based business so we focus on communicating with the community as well as our clients about how they are doing and what we could do to help them with, from delivering the home shopping to helping with the chores."
And finally, what do you enjoy doing in your free time?
Scotland is home to some of the most prestigious golf courses in the UK, and as a keen golfer, Wicus has had some really unique experiences. "A few of my clients are members at some of the best golf courses, so I've been fortunate enough to play at some of them. I've played at the old course in St Andrews, Kingsbarn, Carnoustie and Gleneagles and all because my clients are members."
Without a doubt, these wonderful opportunities gifted to Wicus by his thankful clients must make putting up with the British weather that little bit easier.
Thanking Wicus for both his time and insightful look into his business coaching methods.
Wicus was awarded Winner in the Great British Franchisee Awards in 2021, a great achievement, particularly as Wicus is a relatively new Business Doctor. Download the full case study here, or watch the video for more information.
Contact Wicus here
Could you be a Business Doctor?
Strategic thinking. Strong business insight. Dedication and commitment. These are some of the qualities our business doctors all share.If you think this could be you, get in touch today.