Gary Brown (pictured below on the right) qualified as a chartered account in his native South Africa in the early 90s, moving with his family to the UK in 2005.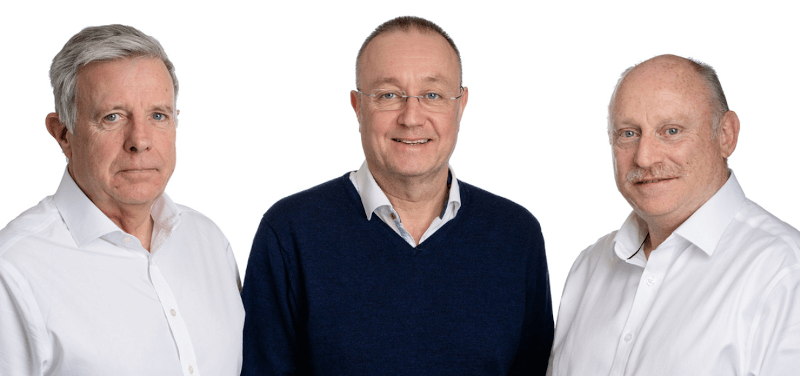 In his last employed role, Gary spent 15 years as chief financial officer for a holding company in the automotive sector. He has previously worked as group financial controller for asset management company Bateman BV as well as a stint at Deloittes.
Gary will now spend his time with SME owners, helping them to work 'on' their businesses rather than 'in' them. An extensive programme of training from the Business Doctors head office team means that he has a full raft of expertise to complement his existing knowledge of strategic planning, leadership, restructuring, financial controls and governance.
According to Gary, the pandemic brought forward his decision to become self-employed, though it had always been on the cards.He said: "I had set myself a timetable to be out of the corporate world by my early 60s. The pandemic accelerated this by a few years as I was keen to continue working from home and to be more in control of my working life.
After 30 years in corporate financial roles, Gary thinks he has much to offer small business owners who are looking for growth. "I find it very refreshing that small businesses are less tied up in red tape and that real changes can be made in a relatively short space of time that can help SMEs to really thrive," he said.
"The Business Doctors training helped me to realise how much I already knew and to fill in a few gaps. I better understand how to market myself and have overcome my reluctance to engage with social media. I appreciate that by buying a franchise, my business is up and running much faster than if I started from scratch."
Matt Levington, co-founder of Business Doctors, said: "Gary is a highly experienced board-level director, with a very personable manner. He has so much to offer small businesses and we are delighted that he has joined our network."
Gary is a member of the Institute of Chartered Accountants in England and Wales, the South African Institute of Chartered Accountants and  Institute of Directors.
He is an avid rugby fan and enjoys watching Saracens. Settled in Kings Langley, Hertfordshire, he also enjoys reading novels, gardening, DIY, and the occasional round of golf.
If you are looking for your next career move and you would like more information on becoming a Business Doctor, please get in touch.
If you are a business owner based in Hemel Hempstead and you would like some advice from Gary,  get in touch.
Could you be a Business Doctor?
Strategic thinking. Strong business insight. Dedication and commitment. These are some of the qualities our business doctors all share.If you think this could be you, get in touch today.