Gary Brown (pictured below on the right) qualified as a chartered account in his native South Africa in the early 90s, moving with his family to the UK in 2005.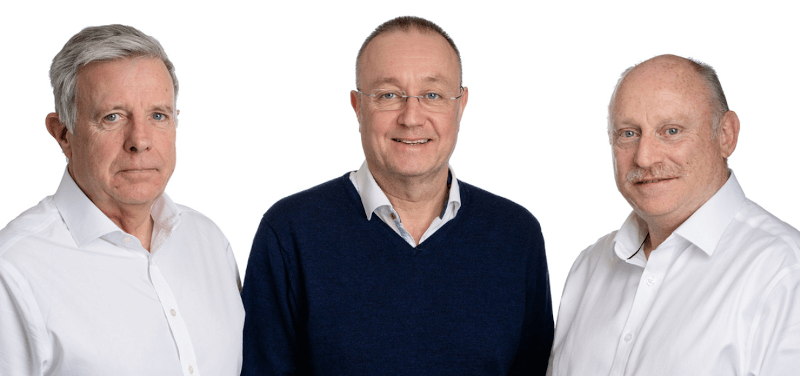 In his last employed role, Gary spent 15 years as chief financial officer for a holding company in the automotive sector. He has previously worked as group financial controller for asset management company Bateman BV as well as a stint at Deloittes.
Gary will now spend his time with SME owners, helping them to work 'on' their businesses rather than 'in' them. An extensive programme of training from the Business Doctors head office team means that he has a full raft of expertise to complement his existing knowledge of strategic planning, leadership, restructuring, financial controls and governance.
According to Gary, the pandemic brought forward his decision to become self-employed, though it had always been on the cards.He said: "I had set myself a timetable to be out of the corporate world by my early 60s. The pandemic accelerated this by a few years as I was keen to continue working from home and to be more in control of my working life.
After 30 years in corporate financial roles, Gary thinks he has much to offer small business owners who are looking for growth. "I find it very refreshing that small businesses are less tied up in red tape and that real changes can be made in a relatively short space of time that can help SMEs to really thrive," he said.
"The Business Doctors training helped me to realise how much I already knew and to fill in a few gaps. I better understand how to market myself and have overcome my reluctance to engage with social media. I appreciate that by buying a franchise, my business is up and running much faster than if I started from scratch."
Matt Levington, co-founder of Business Doctors, said: "Gary is a highly experienced board-level director, with a very personable manner. He has so much to offer small businesses and we are delighted that he has joined our network."
Gary is a member of the Institute of Chartered Accountants in England and Wales, the South African Institute of Chartered Accountants and  Institute of Directors.
He is an avid rugby fan and enjoys watching Saracens. Settled in Kings Langley, Hertfordshire, he also enjoys reading novels, gardening, DIY, and the occasional round of golf.
If you are looking for your next career move and you would like more information on becoming a Business Doctor, please get in touch.
If you are a business owner based in Hemel Hempstead and you would like some advice from Gary,  get in touch.
Whilst franchises come in all shapes and sizes – from big brand fast food restaurants to van based franchises, cleaning companies, vending franchises, children's entertainment and management franchises – the franchisees who operate them have much in common.
Successful franchisees have a unique blend of attributes and skills that enable them to be totally self-driven, whilst letting go of their ego enough to build a business based on somebody else's tried and tested model.
A special kind of entrepreneur
Franchisees are team players. Although each franchisee owner forges their own path, they are still part of a franchise family and everyone's actions – good and bad – impact on the network as a whole. It has also been demonstrated that the franchisees that give the most to the rest of the network tend to get the most in return.Franchisees are positive people, who think the best of others and believe they have much to learn from the people around them. They are open-minded and certainly never described as 'stuck in their ways'
It's got nothing to do with age, class, gender, ethnicity or level of education. There are award-winning franchisees from every demographic. It goes much deeper than surface appearance: what top franchisees share are a set of core values and beliefs about doing business and making money.
Question time
Here are 13 questions that may help to establish whether you are cut out for franchising. Score yourself a 'yes' or a 'no' for each.
Are you considering self employment?
Do you think you can learn from others?
Do you believe in the power of the brand?
Would you like to be your own boss?
Are you a quick learner?
Are you keen to moderate risk in much of what you do?
Are you prepared to give as well as take?
Are you comfortable not to be 100% in control?
Are you able to trust that others have your best interests at heart?
Are you happy to follow rules and systems set by others if you think they make sense?
Are you prepared to admit that you are not always right?
Would you consider yourself to be a flexible person?
Can you access the money for the franchise fee, either through savings or a loan?
Now for the results
The more questions you responded yes to, the more you are sounding like potential franchisee material. Scored more than five? You could be what we're looking for.
More information.
Want to take it to the next level and have an informal chat about what it is like to be a franchisee with Business Doctors? Give us a call on 01744 833778, get in touch. Or to register your interest in our next Discovery Day click here.
Could you be a Business Doctor?
Strategic thinking. Strong business insight. Dedication and commitment. These are some of the qualities our business doctors all share.If you think this could be you, get in touch today.