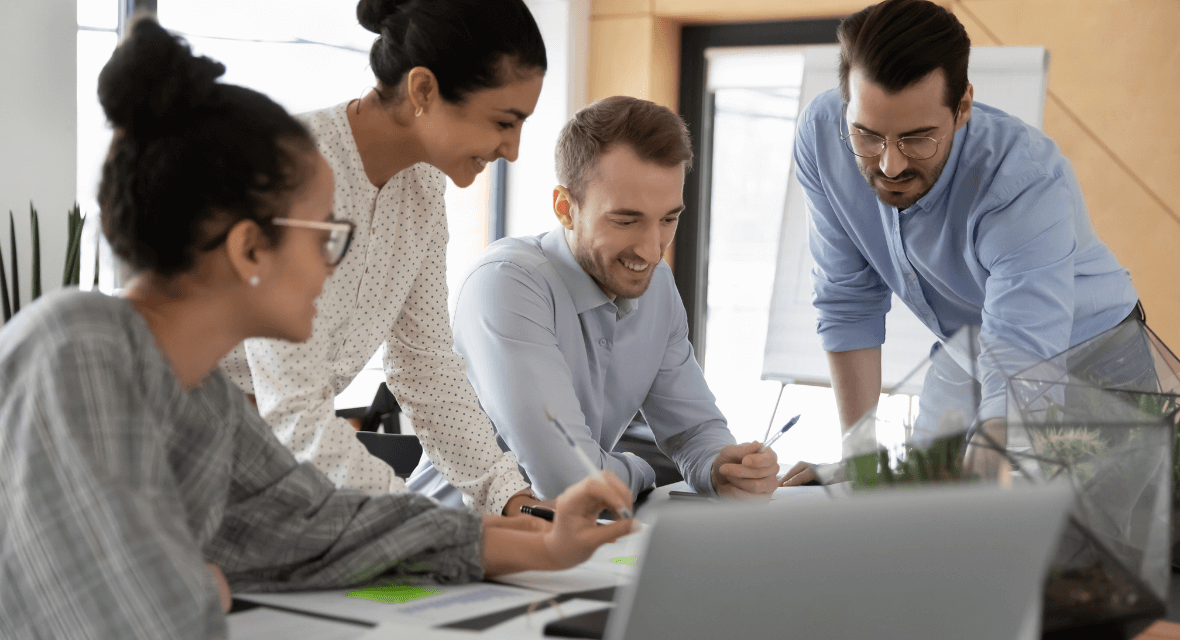 If you are considering your career options and you are drawn to business consultancy, let's take a look at the different approaches between consultancy, coaching and mentoring.
When it comes to business support professionals, we can separate these specialists' separate professions into business consultants, business coaches and business mentors. Although these terms are often used interchangeably, they are quite different in their approaches to business support!
What is a business consultant?
A business consultant takes a more specialised approach than a coach, providing specific solutions for a business itself.
Business Consultants can be self-employed or may work for larger consultancy firms such as KPMG and PwC.
Typically, a business consultant will support large enterprises that employ 250 or more people.
What is a business coach?
Business coaching takes the approach of improving the owner of the leader of their business. These professionals use their experiences to guide those who run their own business into a successful decision maker who takes initiative and knows where they want to be.
Coaching is often provided over a shorter term than a consultancy

Coaching is non-directive which means that it is about posing the right questions, and providing the space, trust and confidence for the individual being coached to consider how they can achieve more, reach their objectives and find capabilities within themselves.

Organisations tend to sponsor an individual to be coached or a line manager will send an employee to be coached for certain skills

Coaching encourages the individual or individuals being coached to improve their performance
What's a business mentor?
A business mentor is a professional who shares their knowledge and skills gathered from many years of experience to help other individuals to develop and grow.
These individuals provide guidance to clients on their goals and aspirations. Whether it be to increase revenue or grow the business, a mentor helps them to reach their full potential.
 Mentoring is often longer-term with some mentoring relationships lasting six months and beyond

No qualifications are required for mentoring, which means that it is easy for organisations to start mentoring programmes quickly.

As mentioned, mentoring is a lot more directive. It is about the mentor sharing their knowledge, experience and skills, telling the mentee and guiding them through direction.

Typically, mentoring is less structured than coaching and whilst having a mentoring meeting agenda and goals is recommended, it will be up to the mentee to put this together, compared with coaching which typically follows a more rigorous structure.

Mentoring is mainly development driven and looks to the mentee to decide what they wish to achieve and which goals they have for their mentoring relationships.
Developing and managing a business can be tough, and it's not just new businesses and start-ups that struggle with this. As a seasoned professional, you're most likely already aware of the challenges facing small businesses. A business mentor will help struggling SMEs find solutions and grasp the new management trends in 2022.
What kind of support do Business Doctors provide?
Business Doctors support sits somewhere between coaching and mentoring. Unlike large consultancy firms, we focus on supporting small to medium businesses with between £1 – £10m turnover and between 10 – 100 employees.
The other main differentiator is our 'hands-on approach' in fact our motto is "we don't just coach we get on the pitch!"
Our support is not sector-specific, instead, we take a holistic approach and our listening skills combined with extensive on the job business management experience helps us to quickly get into the nuts and bolts of a business.
We genuinely care about our clients and their ambitions and often form long-lasting relationships with them, which certainly was the case with Andy Mee
"Since engaging Business Doctors, I feel much more positive about the future of the business. Typically, I am in my room treating patients all day and it is very difficult to see the bigger picture of how the business should be developing. Business Doctors has helped us with our motivation and set realistic but achievable targets to help us grow!" Strawberry House Clinic
"Business Doctors got me thinking differently about my role in my business and my plans for the future. They provided a structured approach, but also listened well and adjusted their questions to suit my company. It made me address some fundamental mental blocks I had when it came to business development and growth." Lustre Home and Garden Ltd
Essential coaching skills
Whilst reading this article, you may have found yourself feeling that business coaching and mentoring are the perfect fit for you. If so, that's brilliant – there is an ever-growing number of SMEs in need of professional business support, especially after a global lockdown and new regulations after Brexit.
So, what do small business owners need in a mentor?
Experience – A confident business-savvy individual who has "been there and done that' gives peace of mind to the business owners searching for assistance with their aspirations. Strong business knowledge and senior level experience means that business mentors have the blueprint to navigate any hurdles businesses may be facing.
Our Business Doctors must be seasoned professionals with at least thirty years of experience in the working world. However, this experience doesn't need to be in coaching! It's fair to say that there isn't just one set background that our support specialists must have!
Passion – There's nothing more inspiring to struggling businesses than a dedicated and driven leader who is eager to get them back on their feet. A passionate business coach may be treated as part of the team, given that they are just as goal-orientated in reaching a company's aspirations as the owners themselves!
Ability to think outside of the box – Small businesses vary dependent on the type of business they are, their target market and their offerings. One month, you may be working with a landscape gardener, the next you could be supporting a start-up company specialising in AI. Therefore, there isn't always a straightforward answer each time. This is part of the fun of being a mentor – there's a new challenge waiting around the corner which may even help to broaden your own experiences!
Positivity – The fact of the matter is that business support isn't always easy. Businesses need time to adapt to a new strategy, which requires a degree of patience from any mentor. There may be setbacks for these companies that are completely out of their control. This happens, and it's all part of their journey. So, if it does, it's essential that their business mentor is keeping their spirits and confidence high. Encouragement goes a long way when it comes to tailored business support – it's vital that any coach remains positive throughout the whole process!
If you are seriously contemplating a change in your career and you are drawn to some form of consultancy or coaching, we hope you found this article useful, you can also download our eBook here.

For the next steps in your decision making, take a look at our blog: How to Become a Business Consultant.